You've been preparing all week for your perfect grill out with friends. You've prepped the grill, bought all the supplies and now the guests are arriving. Don't forget to add a fun playlist to your party festivities. We've made it easy for you!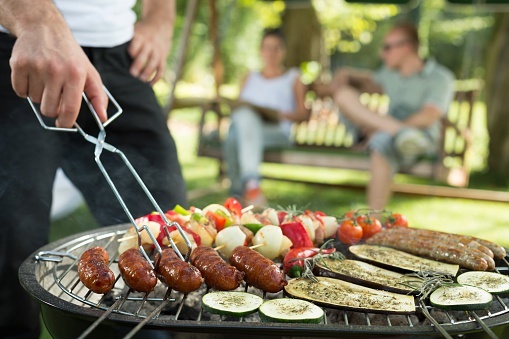 Listen to our Spotify "Perfect Grill Out" Playlist here. Or take a look at the list and add them to your own playlist. Remember Cook sheds make a great extra gathering space for your outdoor parties! For more help in hosting the best grill out on the block,then download our free guide here. It even comes with menu ideas!
Enjoy these 50 songs for the perfect grill out with your friends!
Perfect Grill Out Playlist

---
Oh, Carolina ……………………….. Need To Breathe


---

Can't stop the Feeling! …………. Justin Timberlake


---

I Will Wait ……………………………. Mumford & Sons


---

Windows are Rolled Down………. Amos Lee


---

Summer Breeze …………………….. Seals and Crofts


---

Cruise …………………………………….Florida Georgia Line


---

Home …………………………………….. Edward Sharpe & The Magnetic Zeros


---

Marianne ……………………………….. Mipso


---

Barcelona ………………………………. George Ezra


---

Budapest ………………………………… George Ezra


---

This is How We Roll ………………….. Florida Georgia Line


---

I Don't Want to Be……………………… Gavin DeGraw


---

Chariot ……………………………………. Gavin DeGraw


---

Fortunate Son ………………………….. Creedence Clearwater Revival


---

Day Tripper ……………………………… The Beatles


---

Chicken Fried ………………………….. Zac Brown Band


---

Life In the Fast Lane …………………. Eagles


---

Song of a Preacher Man …………….. Dusty Springfield


---

Don't Stop ………………………………… Fleetwood Mac


---

Brown Eyed Girl ………………………… Van Morrison


---

Dance, Dance, Dance …………………. The Beach Boys


---

Who Did You Think I Was …………… John Mayer Trio


---

Sunshine …………………………………. Vertical Horizon


---

Mambo No. 5 ……………………………. Lou Bega


---

Ice Ice Baby …………………………….. Vanilla Ice


---

This will be our year …………………. The Zombies


---

Party in the U.S.A. …………………….. Miley Cyrus


---

All Summer Long ……………………… The Beach Boys


---

All Summer Long ……………………… Kid Rock


---

Kokomo ………………………………….. The Beach Boys


---

Margaritaville ………………………….. Jimmy Buffett


---

Some Beach ……………………………. Blake Shelton


---

Pontoon …………………………………… Little Big Town


---

Summertime …………………………….. Kenny Chesney


---

Beautiful Day ……………………….…… U2


---

Shut Up & Dance ………………………. Walk the Moon


---

Good Feeling …………………………… Flo Rida


---

Do you Remember/Remember ……. Jack Johnson


---

Sweet Home Alabama ………………. Lynyrd Skynyrd


---

Centerfield ………………………………. John Fogerty


---

My Sharona ……………………………… The Knack


---

Born to be Wild ………………………… Steppenwolf


---

Smoke on the Water ………………….. Deep Purple


---

Lullaby ……………………………………. Shawn Mullins


---

Home ………………………………………. Phillips Phillips


---

One Headlight ……………………..…… The Wallflowers


---

Wagon Wheel ………………………….. Old Crow Medicine Show


---

Sweet Emotion …………………..…….. The Kooks


---

Great Night (feat. Shovels & Rope) .. Need To Breathe


---

Ocean – LIVE …………………………….. John Butler Trio
{{cta('64086a8c-6a24-4d1b-9d5c-6d5b3beb7bb0′,'justifycenter')}}